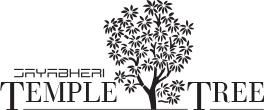 Jayabheri Temple Tree is an eloquent tribute to natural elements. Here, vivid colors and vibrant seasons shine forth in its backdrop. Conceived and built by a visionary, Jayabheri Temple Tree is where you stop dreaming and start celebrating, every moment of the day. This master planned gated enclave is meant for dreamers who aspire for an enchanted living. After all, there are still a few people who appreciate the touch of poetic rendering in their home.

Experience the eloquence of space
Jayabheri Temple Tree welcomes you into an unfolding trail of experiential living. Every step is a revelation, and every square foot and yard is in unison with a grand picture. Explore its landscaped gardens, blooming flowers, shaded outdoors and warm indoors of your villa – all in a symphony that sweeps you off your feet. Through monsoon rains, autumns and winter sunrises, find the renewed vitality of Jayabheri Temple Tree, year after year.
Let the poetry unfold as you step into a charming environment at a prestigious location. A private haven where dreams turn into reality through design and planning. A dream that sustains your soul, nourishes the mind and lets you forget the world. Discover your world of eternal happiness.
Master plan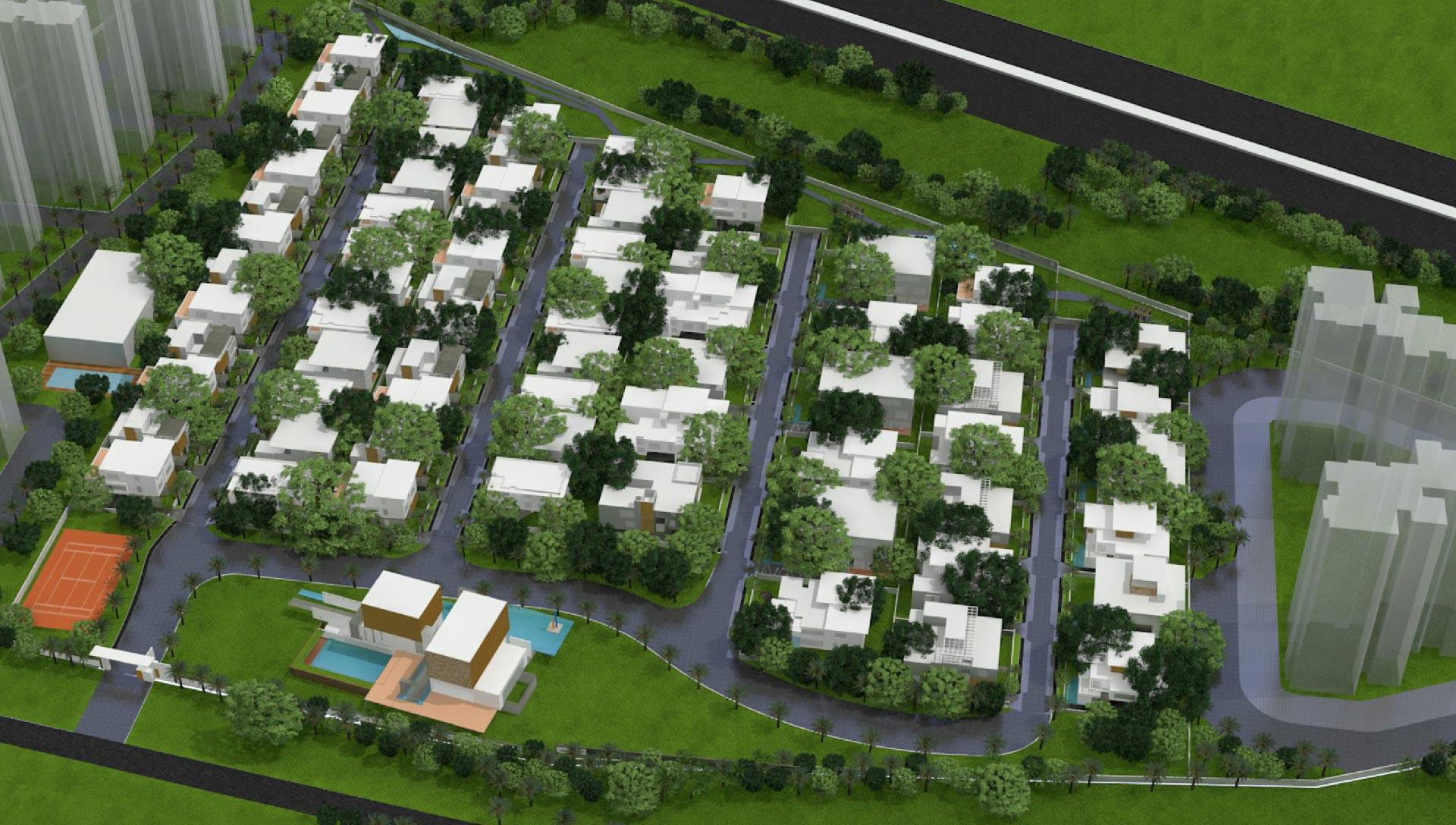 Exclusive features

70 villas with 13 individual floor plans & elevations to choose from
Plot sizes range from 500 Sq. Yds to 1070 Sq. Yds
4 / 5 BHK Villa areas range from 5090 Sft to 11120 Sft
Villas feature double height / Skylight area / Center courtyard
2 / 3 Servant quarters per villa with attached toilets
2 / 3 Covered car parking spaces per villa
Central air-conditioning with high side works done within the villas
100% Generator backup
Solar panels for water heating & for basic power requirement in villas
Large windows / French doors
Underground Walkable Tunnel for Services
Usually all services like water lines, electrical & communication cables, sanitary lines, LPG lines are laid through ground by direct digging. This poses difficulty in maintenance and troubleshooting.
Underground Walkable Tunnel offers following advantages:

Easy access to all services which are underground like water lines, sanitary pipes, LPG lines, electrical & communication cables
Gives an ample space for landscaping on the boundary of road
Easy addition/upgradation of any new services at any time
Visual identification of any leakages (water/sanitary etc) or cable faults
Easy maintenance and no need to dig roads for repairs
Will not disturb traffic on road (with manholes at the center of road), lawns/ greenery on footpaths during repair
Innovative Air-conditioning System
Temple Tree offers one of the most advanced and energy efficient ways to maintain ideal temperatures: District cooling system with thermal energy storage.
Some of the distinct features and advantages of this advanced cooling system include:

Chilled water flows through piping instead of Hot/Cold refrigerants and hence it's safe
Any type of Indoor units are feasible. i.e., High wall, casettes, ducted units
Entire system need not be shutdown like VRV/VRF in case of any problem. Single unit can be shutdown easily without removing gas and refilling
Can easily be integrated with Home Automation system
Overall power consumption is low due to water cooled chillers
Chillers need not be operated during power shutdowns/peak hours (since tariff is higher during peak time), since stored thermal energy is used. Hence running cost is lower
Thermal energy is measured at entry point using BTU Meters
Maintenance is by the Society
Maintenance cost is less than half when compared with VRV/VRF
Solar PV System for Uninterrupted Power
Your habitat at Temple Tree comes equipped with solar PV system that leverages the sun's energy to create free usable electricity for each unit.Key features of the solar PV system include:
Every villa planned with 2 KWP solar photo voltaic system to generate electricity
Storage battery for 2 hours
Generates around 200 units per month of free electricity
Export/Import feature for every villa, so that if it is unoccupied, it can still export and earn money
All TVs and Home theatres will have uninterrupted power supply and hence does not cause restart of Set top box/ Projector
All electrical gadgets in two rooms ( LED lights/ fans/ AC blower/ TV) in the villa can be operated continuously for around 5 hrs per day, even if there is no power

JAYABHERI TEMPLE TREE, MY HOME ETERNAL!
Amenities
Clubhouse Amenities

Heated swimming pool at basement with open-to-sky Lounge
Indoor party area for approximately 100 people
State-of-the-art Gymnasium
Spa & Saloon
Indoor Squash & Shuttle courts
Table Tennis
Billiards / Pool tables
Outdoor Basketball & Tennis courts
Kids' play area
Jogging trac
Visitors' parking at basement for 50 cars approx.
Convenience store
Laundry facilities
Project Highlights:

15 meter green stretch on north and south sides to give the lung space
4-Level Air-conditioned Clubhouse
Large format villas with Open terraces, Water bodies, Home theater
Elevator in each villa
Designer Landscaping
The clubhouse at Jayabheri Temple Tree draws the community as each resident indulges passionately. The body, mind and soul find their way to relax and rejuvenate at clubhouse. Jog within premises and head for gym for workout. Swim a few laps in crystal clear waters and laze on deck area. Evenings will illuminate with party times amid lively interaction. Play an indoor game with neighbor and update on community events. Life is wonderful once you relocate to Jayabheri Temple Tree.
WHERE GOOD TASTE AND OPULENCE MEET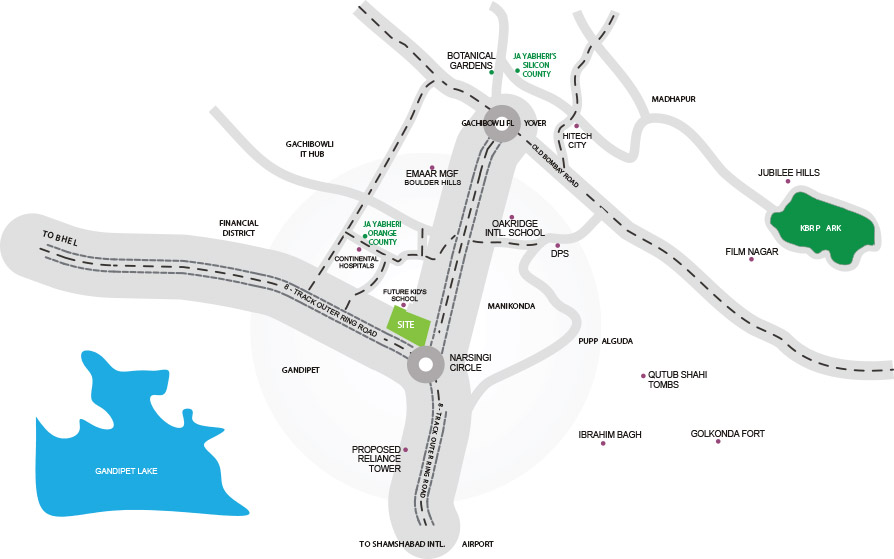 View Larger Map
Schools
Future Kids School - 0.5 Km
Oakridge International School - 3.1 Kms
Delhi Public School - 3.5 Kms
Chirec Public School - 8 Kms
Hospitals
Continental Hospitals - 4 Kms
Apollo Hospitals - 10 Kms

Work
Financial District - 4 Kms
Gachibowli IT Hub - 5 Kms
Madhapur IT Hub - 8 Kms
Recreation
Botanical Gardens - 6 Kms
Inorbit Mall - 8.5 Kms
Shamshabad Airport - 26 Kms